WxS 9800-0M3
GPS Beidou positioning Sensor
Product Highlights
ü GPS Beidou positioning Sensor
ü High precision ,All-weather, High efficiency
ü Receiving frequency range: 1575.42mhz, VSWR 1.5, gain: 28dB 2dB;Noise value: 1.5db
ü Operating voltage: 3~5V
ü Cold start 90s;Warm start 2 ~ 3 s
ü Working temperature: - 45 ℃ ~ 85 ℃
ü Signal good conductivity, strong anti-jamming capability
ü Built-in permanent magnet, strong suction
ü Edge calculation and cloud data processing and analysis
ü Deployed in a cellular topology, Support service providers, the municipal governments and the enterprises to deploy public and private IOT networks
ü The sensitivity of NB-IoT module is 129 dBm±1 dB, excellent penetration, the network coverage is 20dB stronger than GSM, LTE and other networks.
ü Support the communication protocol frequency band published by the international organization agreement 3GPP.
ü Support two kinds of configuration for data transmission. Single-tone transmission,15kHz/3.75kHz Subcarrier interval:25.2kbps(Downlink) , 15.625kbps(Uplink);Multi-tone transmission, 15kHz Subcarrier interval:25.2kbps(Downlink),54kbps(Uplink)
ü Switch freely between Active/Idle/PSM modes, and ensure that the un-received data is retransmitted.
ü Support IPv4/IPv6/UDP/CoAP/LwM2M/Non-IP/DTLS/TCP/MQTT protocol stack.
ü Intelligent terminal provides multi-function interface (MPI), it can be connected with external analog and digital quantity sensors. (RS232/RS485 interface is optional.)
ü Integrated internal antenna or optional external SMA/IPEX antenna.
ü OTA (Over The Air) firmware upgrade, including to upgrade loader and application images
ü Support wide voltage 5~12V DC input, 5 – 10 years of battery operational life with 2 x AA Li-SOCI2 Battery.
ü IP67 enclosure rating.
Application Architecture
Specifications

Wireless

Sensitivity

- 129dBm±1dB

Frequency band

B1 @H-FDD: 2100MHz

B3 @H-FDD: 1800MHz

B8 @H-FDD: 900MHz

B5 @H-FDD: 850MHz

B20 @H-FDD: 800MHz

B28 @H-FDD: 700MHz

Protocol

IPv4 / IPv6 IP/UDP/CoAP/LwM2M/Non-IP/ DTLS/TCP/MQTT

Distance

NLOS(Non-line-of-sight)2km;

Antenna

Integrated internal antenna or external IPEX antenna (SMA)

Mechanical

Dimension

114mm x 80mm x38mm

The overall height increases with the increase of sensors.

Shell IP rating

IP67

Operating Temperature

-40℃to +85℃

Storage Temperature

-40℃ to +90℃

Total Weight

150g

Electrical

Supply Voltage

Low power consumption, 3.1V~3.66V; 1or2 Li-SOCI2 Battery; 5VDC optional.
Installation Guide
Below diagram shows the general installation guide for WxS9800, it can be installed on any flat and solid surface, the lid is contacted with the surface and fixed via 2 self-tapping screws: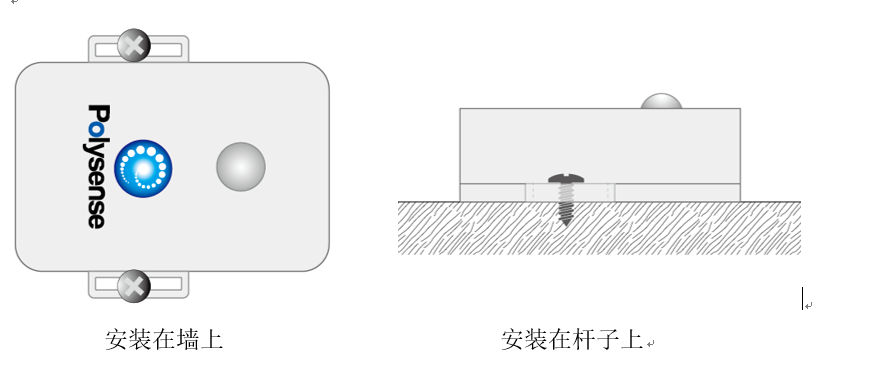 Below is the recommendation of the self-tapping screw and its sizes:
The Sample Application
l Autonomous navigation functions such as cars and trucks
The GPS signal receiver receives the signal sent by the satellite, and the satellite signal calculates the current position of the receiver.At the same time in the map query, route planning, autonomous navigation plays an important role.
l Ocean-going navigation and piloting
The navigation direction and approach position of the ship are determined by the signal transmission between the GPS sensor and the satellite.
l Engineering measurement of three - dimensional positioning
In the static and dynamic measurement, the reference station receives the signal from the satellite, and USES the software to solve and adjust the difference and work out the 3d coordinates.
l Ground vehicle tracking and city intelligent traffic management
Data is sent via satellite or cellular networks to indicate the vehicle's location in real time, and computer screens can show the vehicle's movement in real time.