WxS 870-026
Temp+Humidity+AirPressure+CL2
Overview
The WxS 8700 is a wireless gas sensing platform based on LoRa technology operating at license free spectrum (ISM), enabling both public and private IoT network deployments by service providers, municipality governments, enterprises. It's deployed in star topology with very high density, particularly suited for industrial and enterprise IoT applications such as
1) Industrial campus safety
2) Smart and Safety
3) Environmental Monitoring
4) Subway security and safety
5) Hospitality safety
6) Residential complex, shopping center, CBD safety
Polysense iView is a cloud IoT network management and sensing data analytic platform, supporting Polysense sensor end nodes, such as WxS 8800 and WxS 8700, and 3rd party sensor nodes and definition of new sensor data types. It provides flexible sensor data format conversion, data import and export; charting, data analytic, integrated map, zone and priority based alert management, SMS text and email notification, and open API for 3rd party integration.

Product Highlights
ü 18 types of gases supported (flammable, explosive, poisonous, pollutant or with bad odor)
ü PM 1/2.5/10, VOC, CO2 also supported
ü Integrated temperature, humidity, and atmospheric pressure sensor
ü Temperature Range: -40~125℃
ü Humidity Range: 0 ~ 100%; +/- 2% typical accuracy
ü Air pressure:260 to 1260 hPa absolute pressure range;High-resolution mode: 0.01 hPa RMS
ü CL2 gas measurement range:0-10PPM;Maximum limit of measurement:100PPM; Sensitivity:0.6±0.15uA/PPM;Resolution:0.1PPM
ü Zero Draft(-20℃~40℃)≤4PPM
ü Use temperature and humidity range:-20℃~+50℃;15~90 RH
ü Pin insertion, small size, easy installation
ü 4 MPI interfaces: each MPI can operate as 0-10v analog voltage input, 4-20mA current input, open/close, pulse counting
ü Selectable RS232/RS485, Modbus interface for external sensor connectivity
ü Analog and 16 level PWM digital output for actuator control
ü 3v/5v/9v/12v power output to external devices
ü IP 67+ enclosure rating
ü Integrated internal antenna
ü 1 or 2 'AA' Li-Ion Battery; 5 – 10 years of battery operational life
ü Optional DC 5V power source
ü Optional external SMA/IPEX antenna
ü LoRaWAN 1.02 compliant
ü Up to 5km reach in NLOS and up to 18km LOS environments
ü Edge computing and cloud sensor data processing and analytic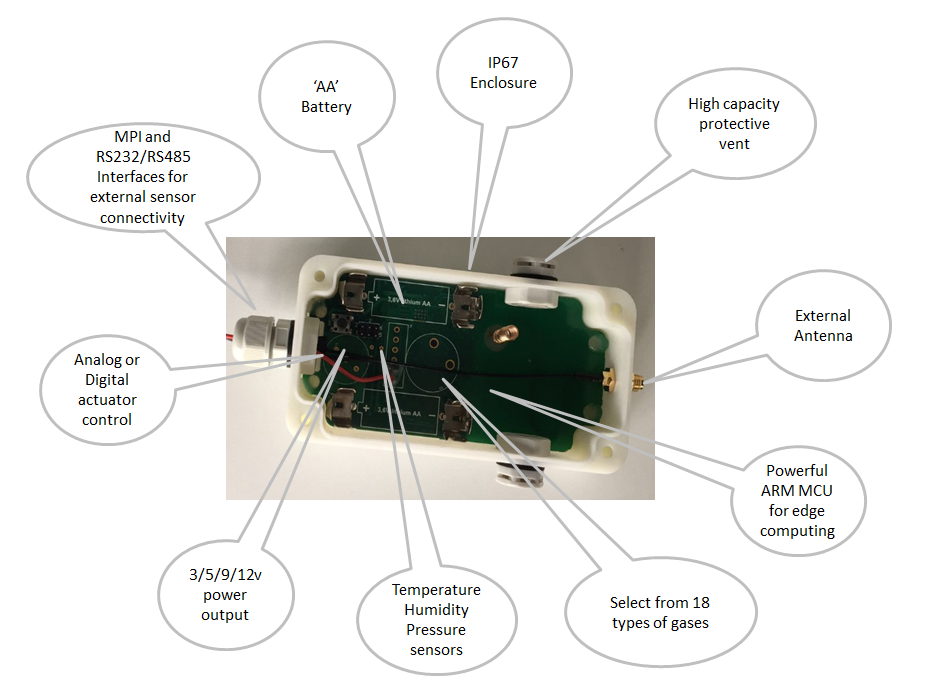 Application Architecture
Sensor Specification
Parameter

value

Temperature

± 0.3°C accuracy; ± 0.1°C resolution; -40C to +125C range

Humidity

±2% typical accuracy; 0.1%rh resolution; 0-100% range

Atmospheric pressure

260-1260 hPa range; 0.01 hPa RMS

CL2

Measurement range:0-10PPM;

Maximum limit of measurement:100PPM;

Sensitivity:0.6±0.15uA/PPM;

Resolution:0.1PPM

Zero Draft(-20℃~40℃)≤4PPM

Use temperature and humidity range:-20℃~+50℃;15~90 RH




LoRaWAN 1.0.2

FCC(America): 2AO7W-WXS8000,

IC(Canada): 23701-WXS8000

ROHS(European Union): R2BJ180927F0664E
Wireless Specification

Mechanical Specification
| | |
| --- | --- |
| Parameter | value |
| Enclosure dimension | 60mm x 100mm x 30mm |
| Enclosure IP rating | IP65 or IP67 |
| Power | 1 or 2 AA Battery; DC 5v optional |
| Operating Temperature | -40C to +85C |
| High airflow protective vent | 8,000ml/min (dp = 70mbar) |
| Total Weight | 120 g |









The harm of CL2
Harmful symptoms of chlorine gas of various concentrations (data collected from the national standard for chemical prevention)
The concentration of chlorine in the atmosphere

mg/L

PPM concentration

Hours to feel the effects

0.001

0.35

Limit of tolerability over time

0.003

1.0

The obvious symptom of six hours action

0.003~0.006

1.0~2.0

No harm from the stench for 1/2~1 hour

0.01

3.5

Action tolerable limit for 1/2~1 hour

0.012

4.0

Irritation to the throat

0.04

14.0

Have a bad cough

0.08

28

Exposure is life threatening for 1/2~1 hour

0.04~0.06

14~21

Death after contact for 1/2~1 hour

0.1~0.15

35~50

instantaneous death

25~28

900~1000
The Sample Applications
Gas, dust, and particulate matters are today present everywhere in our daily lives – in our breathing atmosphere, in our homes, in our working environment, in our vehicles; there is no escape of such seemingly invisible stuff.
Some of them are unharmful, even necessary, such as O2. However, many are dangerous – flammable to cause fire, explosive to cause major accidents, poisonous to cause cancers, major elements of environmental pollutions, or bad living environment with bad odor. They can be generated in many industrial processes, from vehicles, or just gas leaks.
Therefore, it is becoming increasingly critical to be able to detect and monitor the presence and density of such type of gases, dust and particulate matters, for the safety of the society and the health of human beings, making sure the density level does not rise or cross the dangerous threshold level or report timely to avoid major accidents by advanced warnings.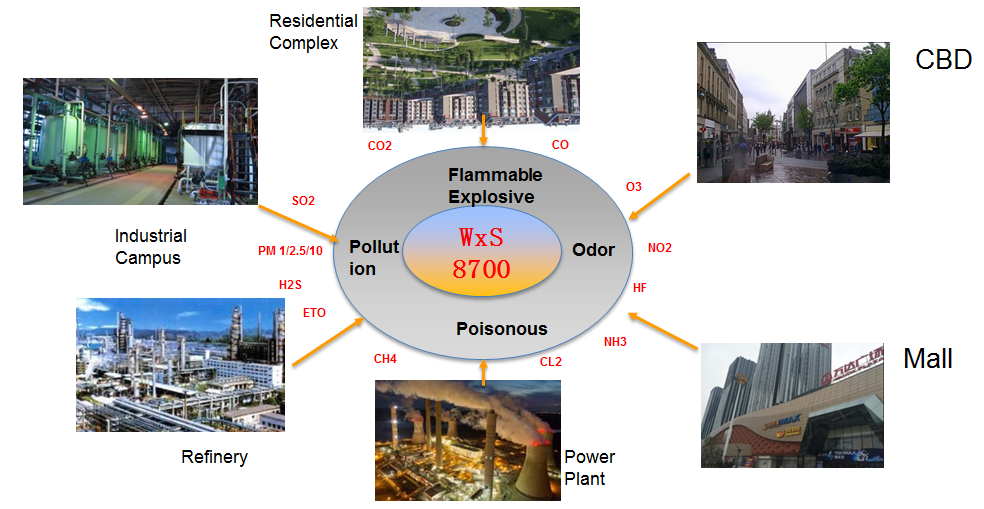 | | |
| --- | --- |
| Applications | Description |
| Industrial campus safety | Many industrial operations, as part of the chemical process, generate certain types of gases which may be harmful to workers, pollute the air, or even causing fire or explosion under certain conditions (temperature and pressure). WxS 8700 can be installed to detect and monitor virtually all dangerous gases while assessing the environmental condition (temperature and pressure) |
| Residential Complex, hospitality hotels, shopping center, CBD Safety | Keeping the shopping center, CBD and complex safe and pleasant is one of the key factors to attract customers. WxS 8800 can be installed at strategic locations, such as public square, hallway, restroom to detect and monitor fire and smoke (Temperature and CO), bad odor (NH3, O3), and dangerous gases (such as CH4). |
| Subway security and safety | Crowded spaces such as subway are always potentially dangerous for accidental gas leaks, fire, or terrorism attacks. WxS 8700 can be installed at strategic locations to monitor the presence and arise of such dangerous gas elements in combination with temperature monitoring |
| Environment Monitoring | Air quality (AQI) is now a major measurement of quality of life in any city. A holistic view of the air quality consists of a number of measurements, including CO, CO2, O3, NO2, and PM 1/2.5/10, street noise level. WxS 8700 enables the sampling, collection, edge processing, transmission of all these critical parameters |
| Smart Home | You often go back home multiple times to double check that the appliances in kitchen is turned off when you leave home to work or go on a vacation. You are concerned about gas leaks and fire. WxS 8700 can monitor temperature, CO, CH4, nature gas – while you are away and alert you if anything abnormal is detected |