The harm of C2H2

C2H2 have a weak anesthetic effect on the human body.The manifestations of acute poisoning are:
(1)Exposure to 10% ~ 20% acetylene, can cause varying degrees of hypoxia symptoms, headache, dizziness, general weakness
(2)High concentration of acetylene, the initial excitement, multilingual, crying and laughing imconstant, dizziness, headache, nausea and vomiting, ataxia, lethargy and so on
(3)In severe cases, coma, cyanosis, loss of pupil response to light, and weak and uneven pulses are present
The Sample Applications
Gas, dust, and particulate matters are today present everywhere in our daily lives – in our breathing atmosphere, in our homes, in our working environment, in our vehicles; there is no escape of such seemingly invisible stuff.
Some of them are unharmful, even necessary, such as O2. However, many are dangerous – flammable to cause fire, explosive to cause major accidents, poisonous to cause cancers, major elements of environmental pollutions, or bad living environment with bad odor. They can be generated in many industrial processes, from vehicles, or just gas leaks.
Therefore, it is becoming increasingly critical to be able to detect and monitor the presence and density of such type of gases, dust and particulate matters, for the safety of the society and the health of human beings, making sure the density level does not rise or cross the dangerous threshold level or report timely to avoid major accidents by advanced warnings.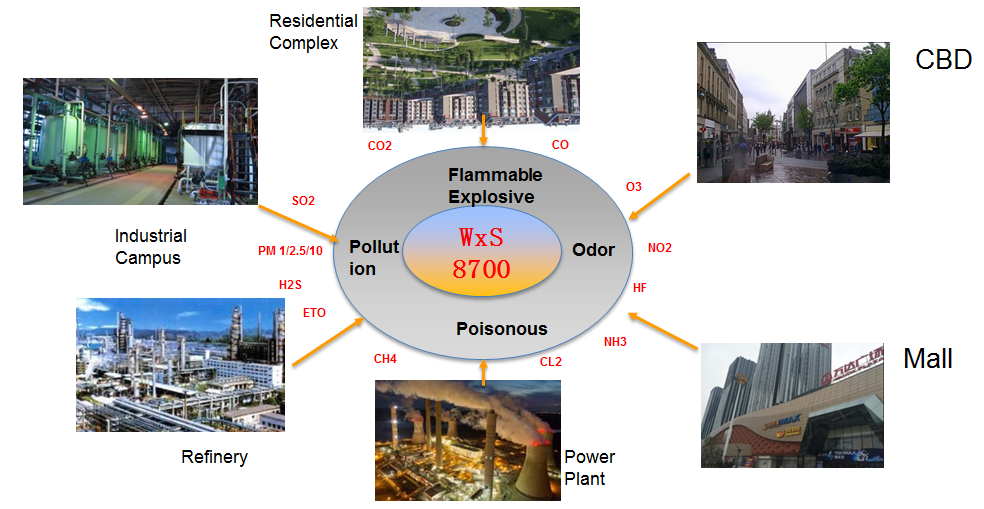 | | |
| --- | --- |
| Applications | Description |
| Industrial campus safety | Many industrial operations, as part of the chemical process, generate certain types of gases which may be harmful to workers, pollute the air, or even causing fire or explosion under certain conditions (temperature and pressure). WxS 8700 can be installed to detect and monitor virtually all dangerous gases while assessing the environmental condition (temperature and pressure) |
| Residential Complex, hospitality hotels, shopping center, CBD Safety | Keeping the shopping center, CBD and complex safe and pleasant is one of the key factors to attract customers. WxS 8800 can be installed at strategic locations, such as public square, hallway, restroom to detect and monitor fire and smoke (Temperature and CO), bad odor (NH3, O3), and dangerous gases (such as CH4). |
| Subway security and safety | Crowded spaces such as subway are always potentially dangerous for accidental gas leaks, fire, or terrorism attacks. WxS 8700 can be installed at strategic locations to monitor the presence and arise of such dangerous gas elements in combination with temperature monitoring |
| Environment Monitoring | Air quality (AQI) is now a major measurement of quality of life in any city. A holistic view of the air quality consists of a number of measurements, including CO, CO2, O3, NO2, and PM 1/2.5/10, street noise level. WxS 8700 enables the sampling, collection, edge processing, transmission of all these critical parameters |
| Smart Home | You often go back home multiple times to double check that the appliances in kitchen is turned off when you leave home to work or go on a vacation. You are concerned about gas leaks and fire. WxS 8700 can monitor temperature, CO, CH4, nature gas – while you are away and alert you if anything abnormal is detected |